SHOELESS JOE and the MILL HILL KIDS - Autographed by the Author!
$

15.00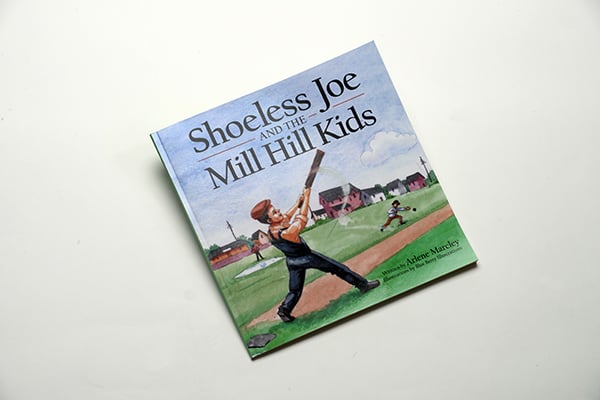 Note: Written by Arlene Marcley, founder of the Shoeless Joe Jackson Museum, this children's book is based on real-life stories told to her by "mill hill kids" who grew up years ago in the mill villages of Greenville, SC. Ages 8-12.
Times were tough for everyone in 1938. The Great Depression had left people with barely enough money for food, much less life's little pleasures. But that didn't stop the kids growing up in textile mill villages across the South from having fun.
Ten-year-old Charlie Miller and his pals loved to play baseball. They made balls out of rocks, cotton, and twine, and whittled bats from sturdy pine limbs. Their team was the Smackers, and their archrivals were the Dogtown Dogs.
Despite his love for the game, Charlie was not very good at it. Splinter Rawlings, village bully and leader of the Dogs, taunted Charlie and made fun of him. "You couldn't hit a ball with a two-by-four," Splinter would say to him. That hurt Charlie's feelings, and he vowed to become a better hitter.
Charlie heard about a local man named Jackson who had played baseball in the Big Leagues and sought him out for advice. Little did Charlie know that his game was about to change, for the old man was a legend--a legend called "Shoeless Joe."